League Information
The goal of the Findlay Men's Hockey League is to provide an organized, fun, and competitive recreational hockey experience for men and women of all age and skill levels.

We host three seasons throughout the year: Fall, Winter, and Spring. The fall and winter seasons usually consist of 11 to 13 games while the spring season consists of 6 to 8 games.

During the fall and winter seasons, we offer three divisions of play: A, B, and C. Below, you'll find a more detailed explanation of each of these divisions. During the spring season, we offer two divisions of play: Upper and Lower. The Upper division consists of A and high-level B players while the Lower consists of low-level B players and C players.

All of our games are held at the Cube in Findlay (see map below), consist of three 17-minute stop-time periods, and are officiated by two referees and one scorekeeper. In the event of a tie, A and B division teams will play an additional 5 minute, 4-on-4 run-time overtime with no subs. C division games end in a tie.

We can provide team uniforms if needed which are to be returend at the end of the season.
Rating System
To help meet our goal of providing an organized, fun, and competitive hockey experience, we developed a rating system to place players in the appropriate division of play. The chart below provides a brief description of each of the divisions. When reading the chart, start by looking at the descriptions for ratings 2, 5, and 8. The adjacent ratings are relative to these ratings.

Individual player ratings can be found using the link below or on the Player Profile page of the website. The ratings were compiled by the Rating Team with input from Team Captains.
Rating Chart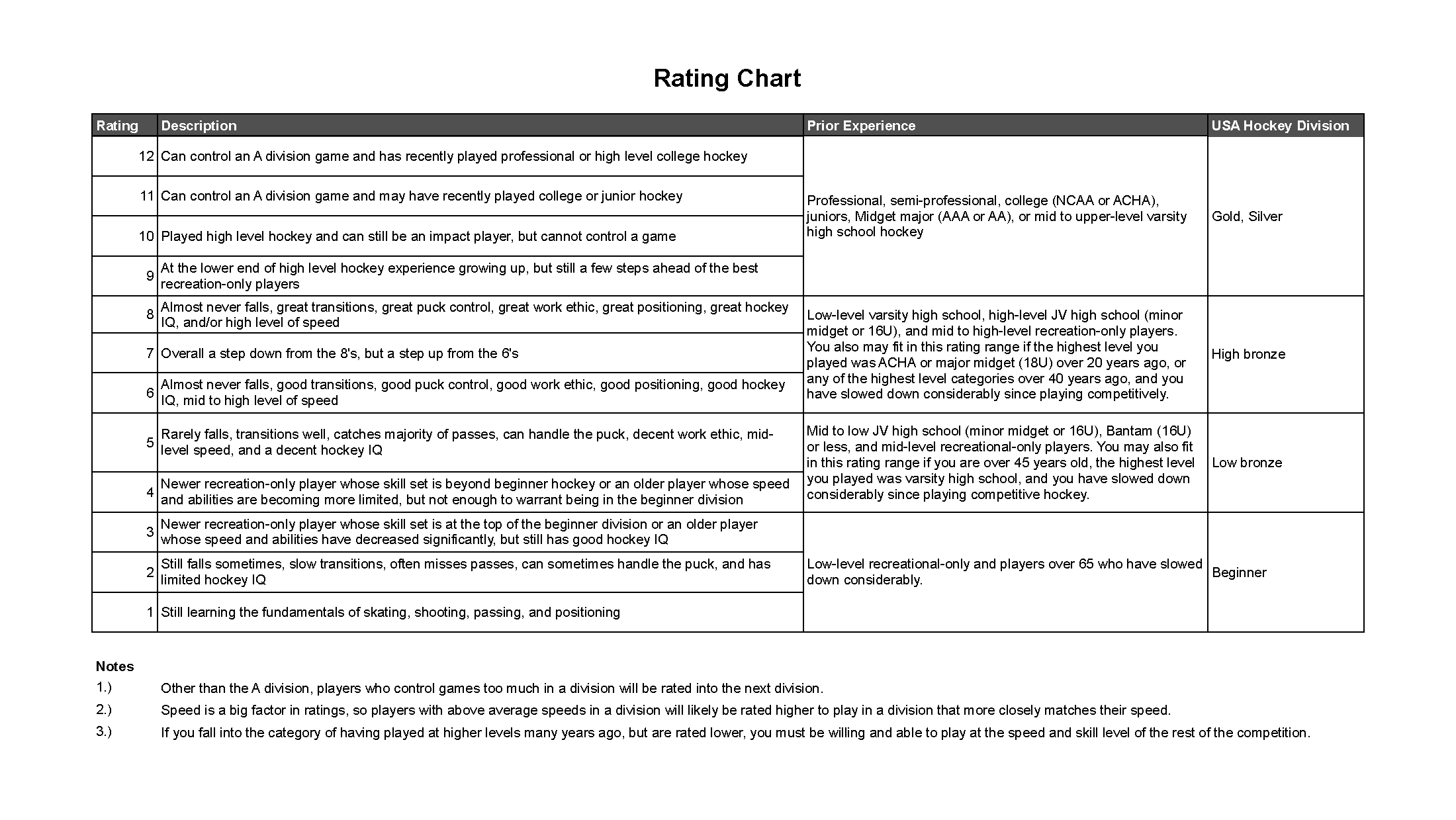 Team Rating Cap
To build parity within divisions, a Rating Cap will be established for each season. Team Ratings are calculated by taking the average of the rostered players and 2x the goalie. A link to the Team Rating table is provided below.